CIPD 5CO03 Assignment Example | 5CO03 Professional Behaviors and Valuing People



Get Custom CIPD Assignment from Reliable Writers that Offer CIPD Assignment Help





Achieve more in less time
CIPD 5CO03 5CO03 Professional Behaviors and Valuing People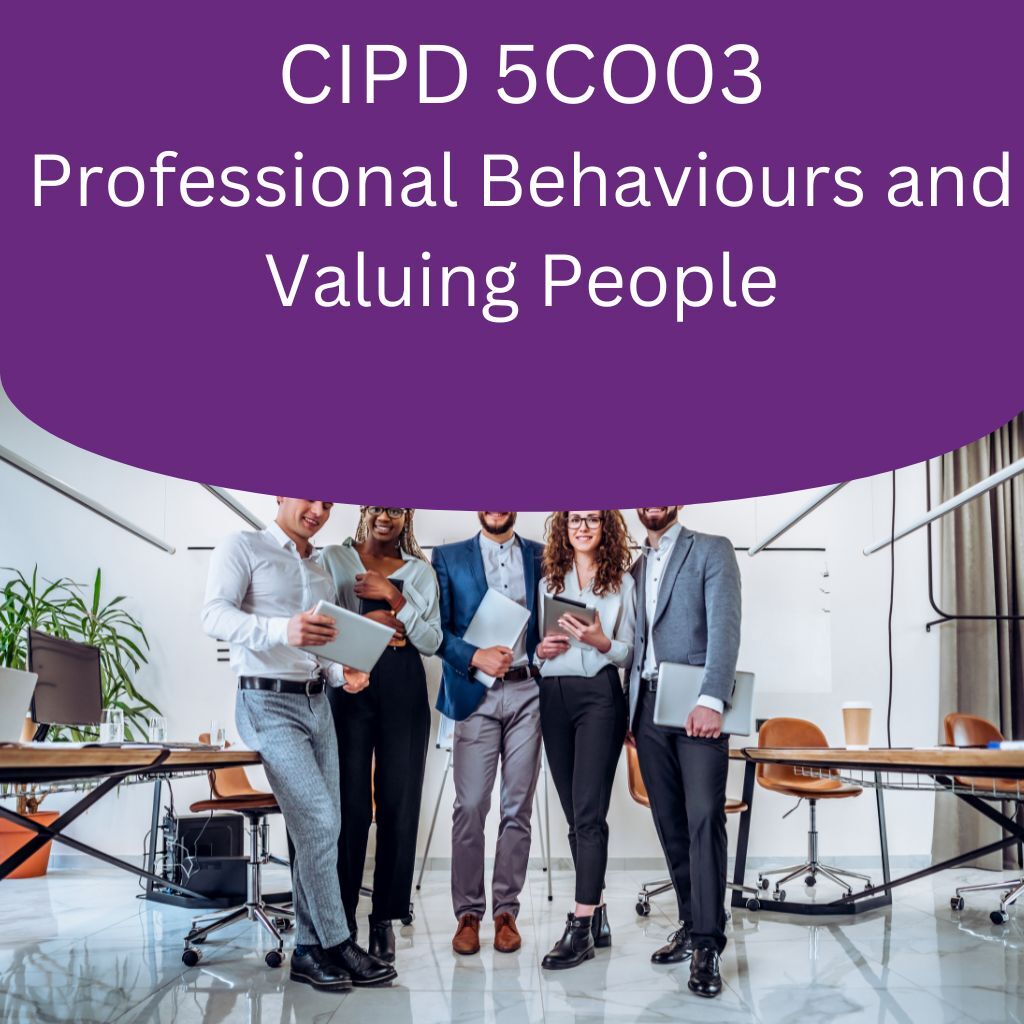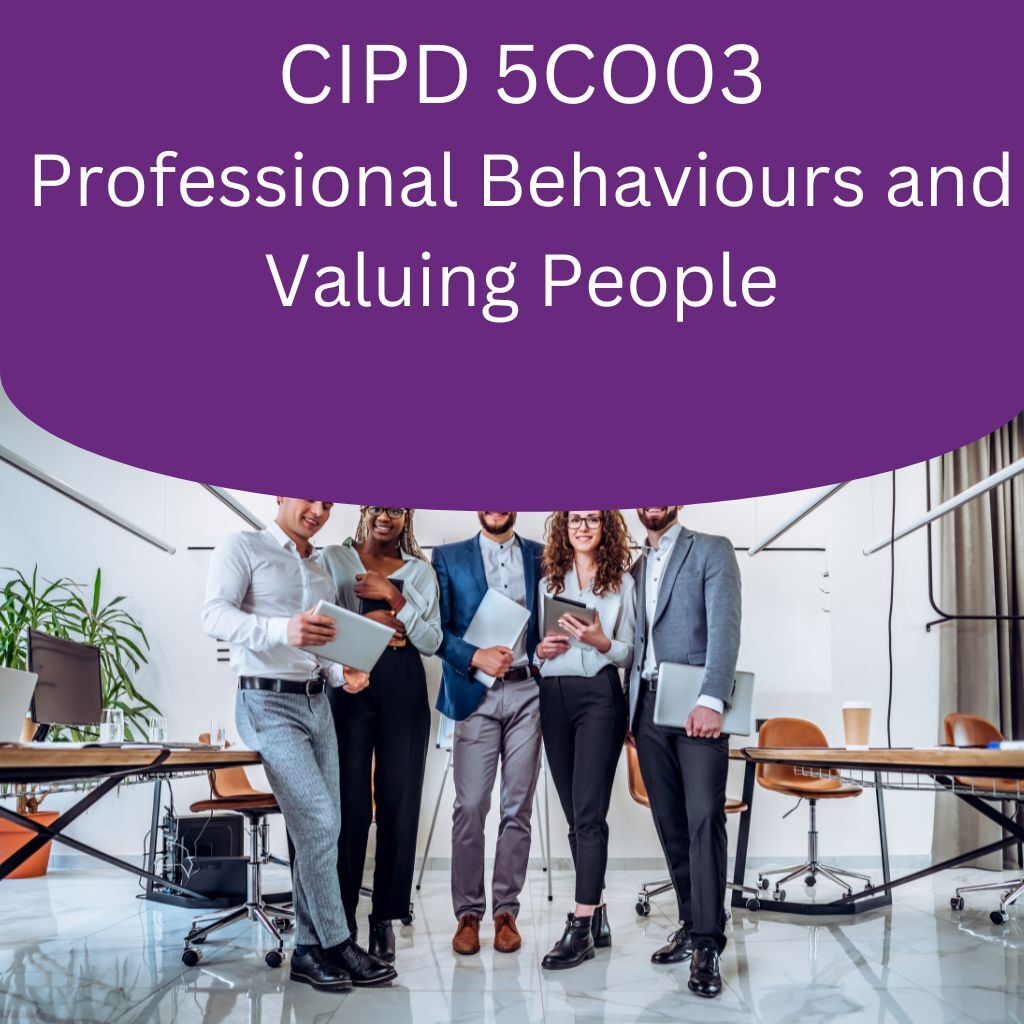 Define the term professional and explain what it means to be a 'people practice professional'. (1.1)
A professional is a person who is knowledgeable about specific field. It is a person who is educated, skilled, and experienced person in a certain speciality. For instance, one can be a L& D professional or HR professional based on the level of education and skills that he or she has. It is not merely based on education, knowledge, and skills, but also on the behaviour that one demonstrates. For instance, one has to demonstrate that he or she can act continuously in specific manner. It also encompasses one's behaviour.
In this case, one has to demonstrate that he or she can uphold to the ethical values and hold to key attributes such as integrity, transparency, accountability, honesty, and other appropriate behaviours. In regard to skills, a professional has to be accredited and show high level of communication skills, analytical, and leadership (Lundgren et al., 2019).
According to CIPD, the Professional map, propel practice professional should demonstrate the appropriate code of conduct. For instance, according to the CIPD professional map, a people practice professional should adhere to the basic standards such as continued development. According to the CIPD professional map, a people practice professional should adhere to the professional's shared identity in a manner that they adhere to a set of norms and principles. The CIPD professional map outlines the expectations of the people professional:
Core values: this encompasses the common values that people practice professional should demonstrate. In this case, they need to show that they share the commonality of being evidence led, principle led, and be outcome driven. As such, for the people in the HR industry, they need to demonstrate these three core values as the bare minimum.
Core knowledge: In people practice profession, one should demonstrate having knowledge in core knowledge. They need to be specialists in knowledge of people, work, and change as people professionals. A foundational knowledge of a variety of people practices, as well as a grasp of how diverse practices interact and work together in an integrated manner, is essential.
Core behavior: In today's unpredictable workplace, core behavior entails what it takes to be a successful HR practitioner. CIPD professional map outlines that a people professional should be ethical, courageous, and influential, value other people, value inclusion and diversity, have the passion to learn, be insight focused, and a sound decision maker.
Specialist knowledge- this covers the different areas where a people professional could specialize on. For instance, the professional could specialize on learning and development, resourcing, talent management or rewarding.
Discuss the concept of 'ethical values', and how at least three ethical values that you hold personally impact (or could impact) on your work as a people practice professional. (1.2)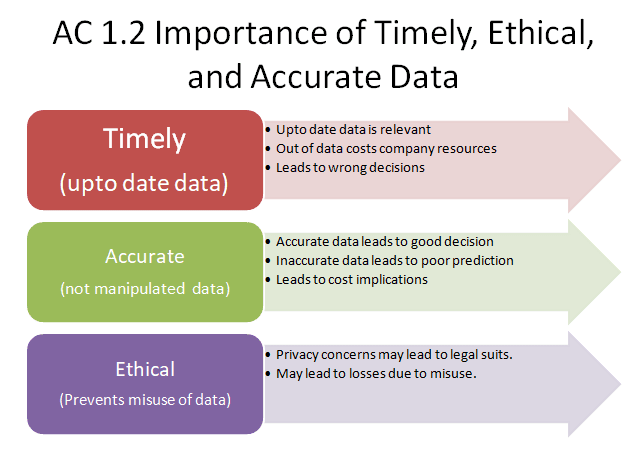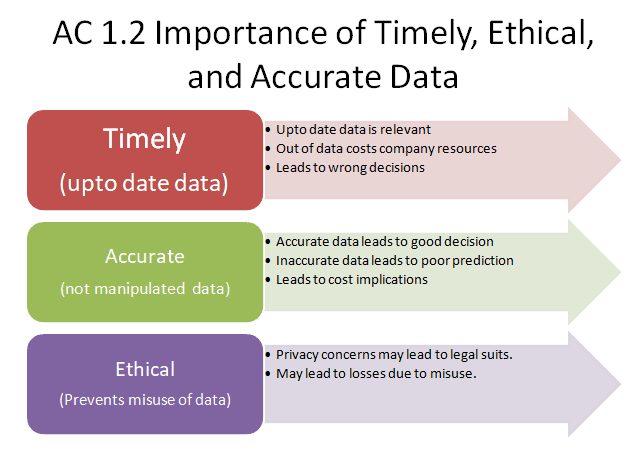 Ethical Values are characteristics that act as the compass to determine what is right or wrong. A person who demonstrates personal values is deemed to act right for the right reasons as opposed to merely acting on personal behalf.
Personal values also distinguish between what is good acts and what are the bad ones, what are the moral and immoral acts based on the generally agreed societal norms (CIPD 2021).
My personal Ethical values
In my practice, I am guided by
the basic ethical values:
·
Integrity:
I always ensure that I do not mislead facts, I always present data as it is to
the company management.
·
Honesty:
I always ensure that I provide information to the company and act in honesty.
·
Accountability-
I am accountable to my actions and never blame others for failure.
·
Respect-
I always ensure that I respect all people and listen to them regardless of the
position in the company.
Benefits to the Employee
In order to achieve company goals, my ethical convictions help me to act as guided by principles, have appropriate focus on business and organizational goals. It also helps employees adhere to corporate regulations and procedures, such as the code of conduct, avoiding disagreements with management. It also helps employees adhere to corporate regulations and procedures, such as the code of conduct, avoiding disagreements with management. It's also an opportunity for me as a worker to demonstrate my professionalism, which will help me advance in my job, and seek promotions. I can also embrace diversity and inclusivity, which encourages collaboration with my workmates. Indeed, I can work with other people from different culture, nationality, or race when I stay principled and guided by ethical beliefs (CIPD 2021).
Benefit to the Business
It aids in the improvement of the reputation of the organization. The reputation of a corporation is determined not only by the quality of its products and services, but also by how different stakeholders display ethical ideals. It also helps in improving the relationship with workers. Ethical principles aid in the development of relationships with coworkers and stakeholders, as well as instilling a feeling of responsibility and accountability in employees and stakeholders. It is an approach to enhance competitive advantage of the company: It is not just a risk-reduction strategy, but it also gives companies that display ethical behavior a competitive advantage (CIPD 2021). Enhances success in the organization: Trustworthy relationships with employees, customers, suppliers, and the general public are critical to an organization's success CIPD 2021).
Made an engaging and well-informed contribution to discussions to support the application of good people practice (1.3)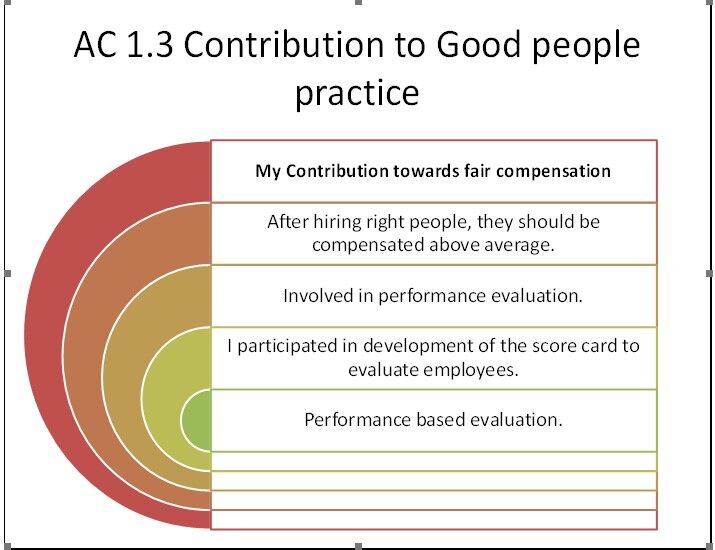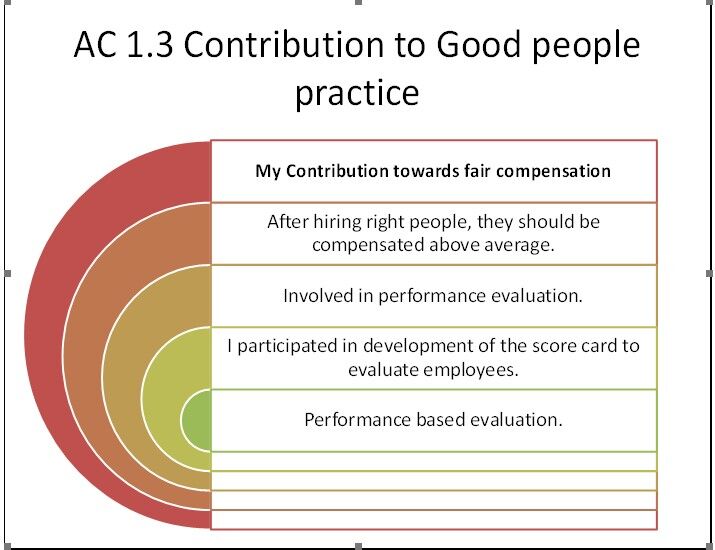 As a key part of the people practice, ensuring
fair compensation for the workers is essential in any organization. I consider
better and fair remuneration as a key people practice that influences the
retention of staffs as well as motivate employees to work hard (CIPD 2015). In this
case, I have made significant efforts towards my contribution towards fair
compensation for the employees.
As such, after hiring right people, they should be compensated above average so that they can be engaged, show greater retention, be motivated, and work towards the interest of the company.

In light of this, I have been involved in conducting performance evaluation, which forms basis for review of wages and bonuses. As such, I have actually been involved in the development of the score card to evaluate employees. in this case, I made contribution to the numerous aspect that should be covered in the appraisal, to ensure that they are fair and based on performance of the employee. I also ensured that the conduct and behavior of the employee is also put into scale to ensure that as workers perform well, but also remain within the expected code of behavior. Indeed, the team endorsed my opinion and elements to include in the balanced score card, which ultimately allowed employees to be remunerated fairly based on performance and behavior.
Other CIPD 5CO03 Professional Behaviors and Valuing People
taken responsibility for your work/actions, including recognising and rectifying mistakes (1.4).
known when and how to raise concerns when issues such as organisational policies or leadership approaches conflict with ethical values or legislation. (1.5)
Provide a robust argument for ethical people practice that is supported by academic
theory and details both the business and human benefits of people at work
feeling included, valued and fairly treated. (2.1)
Using your own example of providing a people practice solution to meet a particular need, or a hypothetical example such as introducing a new policy or reward initiative, comment on how you would/have:
Ensured the 'design' of the solution was informed by engagement with others, particularly those most affected by the solution. (2.2)
Evaluated the impact of the solution in terms of how well it met the needs of and engaged all those it was aimed at. (2.3)
Undertake a self-assessment against the following three CIPD Profession Map core behaviours, at associate level: Ethical Practice, Valuing People, and Working Inclusively.
Your self-assessment should include conclusions derived from other people's feedback as well as your own reflections, on your behaviour and performance. (2.4, 3.2)
(An example self-assessment template, for Ethical Practice, is provided at Appendix 1 of this assignment brief and can be extended to accommodate the other core behaviours.)
From your self-assessment, identify your weaker areas and your development objectives for addressing these. Determine the most appropriate professional development activities to meet your objectives, and add these to your Professional Development Plan (PDP). (3.2, 3.3)
Don't compromise on quality.
Our CIPD Assignments help can service all your Assignment Perfectly.
References
CIPD 2015. Best to good practice HR: developing the principles. Available at https://www.cipd.co.uk/knowledge/strategy/hr/good-practice-report#gref. <Accessed on 16 May 2022>
CIPD 2021. Ethical practice and the role of people professionals. https://peopleprofession.cipd.org/profession-map/core-behaviours/ethical-practice#gref <Accessed on 16 May 2022>
CIPD. Professional Map. Available at https://peopleprofession.cipd.org/profession-map <Accessed on 16 May 2022>
Erlangga, H., Sos, S., & Erlangga, H. (2021). The Influence of Motivation, Ability, Organizational Culture, Work Environment on Teachers Performance. Turkish Journal of Computer and Mathematics Education, 12(4), 99-108.
Kocakulah, M. C., Kelley, A. G., Mitchell, K. M., & Ruggieri, M. P. (2016). Absenteeism problems and costs: causes, effects and cures. International Business & Economics Research Journal (IBER), 15(3), 89-96.
Lundgren, H., Poell, R. F., & Kroon, B. 2019. "This is not a test": How do human resource development professionals use personality tests as tools of their professional practice?. Human Resource Development Quarterly, 30(2), 175-196.
Shore, L. M., & Chung, B. G. (2021). Inclusive leadership: How leaders sustain or discourage work group inclusion. Group & Organization Management, 1059601121999580.
Tehrani, H. D., & Yamini, S. (2020). Personality traits and conflict resolution styles: A meta-analysis. Personality and Individual Differences, 157, 109794.